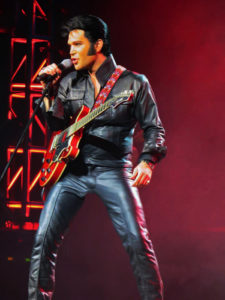 The build-up for the 2019 Parkes Elvis Festival has started with the announcement of Ted Torres Martin of the US as the feature artist.
The international Elvis tribute artist from Orlando, Florida is a multi-talented actor, singer, songwriter and musician, and will be performing in Australia for the very first time. He said on his Facebook page after the announcement last month: "I am very excited about headlining the 2019 Parkes Elvis Festival in Australia, which is the biggest Elvis festival in the world! I am very honoured and look forward to entertaining all the wonderful Elvis fans in Australia in 2019!"
Ted is sure to leave fans 'All Shook Up' – the theme of the 27th festival. He will appear in four high-energy concerts celebrating Elvis Presley's music at the Parkes Leagues Club from Thursday, 10th to Sunday, 13th January 2019. He will be backed by a dynamic live Elvis band to recreate the performances that made Elvis Presley the one and only King of Rock 'n Roll.
In addition to the feature concert series, Ted will appear at the 2019 Parkes Elvis Festival Street Parade, gospel service and Renewal of Vows Ceremony.
Ted is one of the top tribute artists in the world, and has toured the United States, Germany, Austria, Hong Kong, Japan and Singapore.
Parkes Elvis Festival Director Cathy Treasure said: "Ted has a great reputation for putting on an unforgettable show and we look forward to seeing this when he takes to the stage in Parkes."
Tickets for the 2019 feature concert series will be on sale following the 2019 Program Launch on Monday, 10th September.
The 27th annual Parkes Elvis Festival will take place from 9 to 13 January next year.