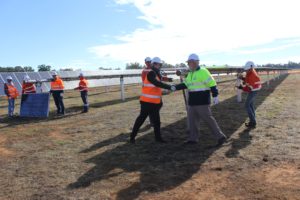 It was all hands on deck for last week's solar panel installation ceremony. Mayor Ken Keith and Wiradjuri elder Robert Clegg donned hi-vis and hard hats to help install solar panels at the Parkes Solar Farm.
They were joined by a handful of other VIP's, or Very Important Panel-installers; Ian Learmonth, CEO of the Clean Energy Finance Corporation, and senior executives from the Australian Renewably Energy Agency, French renewable energy firm Neoen, and construction company Bouygues were made honorary solar panel technicians for the ceremonial event.
Construction on the Parkes Solar Farm is already well-underway, with acres of piles and panels already erected. The solar farm is situated on 240 hectares of land to the west of Parkes, and is the largest of Neoen's four Australian solar plants.
Ultimately it will be connected to the future solar farm substation, and will produce up to 80MW of renewable energy – or enough to power more than 20,000 homes.
Bouyges CEO Jean-Chrisophe Perraud said that he's excited to be part of a project that will bring the green power our planet deserves. He credited the local and international crew with the project's successful progress. "We have the right people on the ground and are tremendously engaged with the local people," he said. "We're us- ing an ambitious mix of local know-how and global skills."