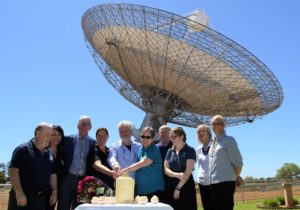 Who would have thought that some of the excitement of 1969 would reverberate in a paddock outside Parkes 50 years later? This week the Parkes Radio Observatory Visitors Discovery Centre fittingly started a year of celebrations with a big birthday cake for its 50th anniversary.
According to Operations Scientist John Sarkissian's calculations the centre has handled more than five million visitors, making it not only the biggest tourist attraction in Parkes, but also the number one point of contact with the public in the CSIRO.
The year 1969 was marked by milestone events like the final public performance of the Beatles, the first flight of the Boeing 747 Jumbo Jet and the Concord, the launch of Apollo 9 and the moon landing, but it also saw incredible public interest in the Parkes Radio Telescope following the ABC program Astronomers of Parkes.
"People started pouring in wanting to have a look around until 6,000 visitors arrived for an open day," said John. After some lobbying, the visitors centre was built at a cost of $50,000 and officially opened by the Science and Education Minister, Malcolm Fraser on 14 February 1969.
Visitors numbers continued to climb and sky rocketed after the release of the popular movie The Dish with numbers peaking in 2003 with 138,000 per year. The centre was upgraded in 2001 with Roy Billing, who played the Mayor of Parkes in The Dish, and the real Mayor, Robert Wilson doing the honours at the opening.
It is not only in Parkes that The Dish has become an icon. Director of Telescope Operations John Reynolds said the most successful scientific instrument ever built in Australia had been featured on banknotes and even rego stickers.
"Fifty years later it is still punching above its weight, and that is where the visitors centre comes in. It is the reason everyone knows about the telescope."
John praised the staff saying it was easy to underestimate their importance. He said they had made the centre unclosable and encouraged them to continue their great science outreach.
On 20th and 21st July this year the visitors centre will once again feature with the 50th anniversary of Apollo 11's moonlanding with an open weekend at the Parkes Radio Telescope.