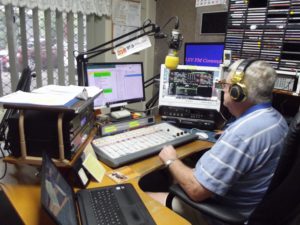 Community radio station 2LVR, Lachlan Valley Community Radio Inc, invites everyone to its open day on 23 September in Forbes. It was established in 1992 and is completely run by 28 volunteer staff, with the exception of one part-time office employee. The announcers provide 15 hours live programs each day reaching an audience of
around 30,000. Broadcasts are 24 hours a day in FM stereo. Programs are streamed all over the world on the web.
The overnight programs are produced by a volunteer, as well as local news, while national news on the hour comes by satellite from 2UE in Sydney. All local community service announcements are produced by volunteers and are
free of charge. The main source of income is from sponsors advertising on the station, plus government grants from time to time.
An annual member's contribution of $10 is a further source of income with about 250 members currently.
As there is a lot of costs to keep the station on the air, there is always a need for volunteers to help out, or sponsors to advertise. Please contact the station if you would like more information.
By Kevin Dwyer