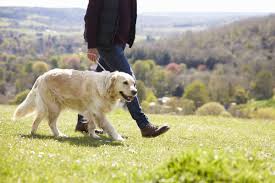 As we have Spring in our vision, this is a good time to start spending more time outdoors, especially with your dogs. There are a few dos and don'ts of dog walking to ensure that you and your pup get the most out of your walks together.
Dos
• Use the right type of leash: Nylon leashes for unpredictable weather conditions; Leather leashes for hand comfort and to avoid leash burn; Retractable leashes for use in parks and hiking trails; Chain or harness leashes if your pup tends to tug or pull.
• Teach your dog to walk beside you. Be consistent – use the same leash, walk the same route. Tire your dog out just a bit before a walk. Use treats and positive reinforcement when they do the right thing.
• Walk your dog often, daily if possible! It is recommended that dogs get a minimum of 30 minutes of exercise a day, and going for a casual walk around the neighbourhood is a great way to get in that half hour.
• On the rare chance of a separation, make sure that your dog's identification information is correct and up-to-date.
Don't:
• Walk your dog without a leash. Even if your dog is well-trained, it tends to be safer and more comfortable.
• Let your dog tug or pull on the leash.
• Walk unprepared for the weather. Always check the weather and prepare by taking plenty of fresh water on a hot day, or put your pup in warm booties on a cold day.
• Let your dog eat plants or romp on unknown lawns which could be sprayed with pesticide.
• Walk your dog without extra waste bags.
(Source: barkefellers.com)