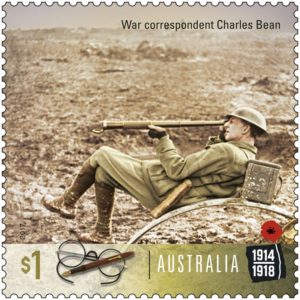 Australia Post has issued a new World War I commemorative stamp issue honouring war correspondent Charles Edwin Woodrow Bean.
Australia Post Philatelic Manager Michael Zsolt said: "This year's issue is the fourth in a five-year program commemorating the centenary of WWI. Correspondent Charles Bean was a key non-combat figure, who recorded Australia's part in the war and initiated our national military heritage collection. We hope his place in this stamp issue reminds all Australians of his significant legacy."
The photograph in the stamp design was taken by Herbert Baldwin on 26th February 1917. It shows Bean as the keen observer he was, watching the Australian advance through a telescope near Martinpuich, France.
Bean won the Australian Associated Press ballot in 1914 to become Australia's official war correspondent. He departed for the war in November of that year with the first contingent of the AIF, which disembarked in Egypt. The war would come to dominate his career and life: as well as writing dispatches from the front, he wrote the multi-volume official history of Australia's part in WWI, commenced the Australia's WWI collection, and conceived of the Australian War Memo- rial as a place to house our national military heritage.
The stamps also represent four other thematic strands: the Australian Flying Corps, which entered the skies above the Western Front in late 1917; the Third Battle of Ypres, which cost so many Australian lives; the Sinai–Palestine campaign, which waged in the East; and the crucial home-front support for the troops by an army of mainly women.
The five domestic base-rate ($1) stamps are designed by Phil Ellet of Castlemaine- based Creative Ethos.