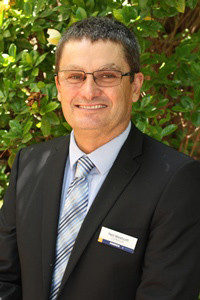 Parkes Shire Councillor Neil Westcott is an Alectown farmer and supporter of Farmers for Climate Action. He was getting sick of waiting for someone to say something about climate change and decided to speak out by writing an opinion piece, which was published in The Land last week.
"It is a cry from the heart," he told The Parkes Phoenix. "We are not leaving a legacy I am very proud of."
Here is what he wrote: "I'm going to listen, then I'm going to plan and then I'm going to act." Those are the words of Coordinator-General for Drought, Major General Stephen Day.
I'm due to meet the man as he continues his tour of the nation listening to farmers and helping to unite efforts to bring support to drought-affected farmers and their families. I'm hoping that by meeting farmers like me, he will take the first-hand knowledge and advice with him to the National Drought Summit in Canberra.
Although Stephen's words address drought relief, they can be equally applied to action on climate change. Anyone who listened to the scientists who authored the recent IPCC report can be in no doubt that we only have a matter
of 12 years before our climate reaches crisis point.
We have to take action now. Primarily, that action must include a long-term policy on agriculture and climate change, including support for farmers to plan for increased frequency and severity of drought.
As a fifth-generation farmer at 58 years of age, my records show that this year we have had just 20% of our annual rainfall. We are entering uncharted territory. Droughts are getting more severe and growing seasons are getting shorter.
Like most farmers today we are adapting and evolving, and for some of my farming peers, while you are adapting to change, it feels as though you still have some control over what is happening. But you can only adapt so far. Eventually climate change is going to catch us. I will be telling Major General Day there is a younger generation who aren't so conservative, who know that they and their children will be the ones feeling the full impact of extreme weather patterns: too dry, too wet, too cold.
Out-of-season bushfires, droughts and severe frosts are mere sideshows to the main event. We are set to pay a high cost for political complacency on all sides of the spectrum.
As a councillor on the Parkes Shire Council I am heartened to see local government stepping into the policy vacuum
created by federal government. We have a greater freedom from party politics and I'm enormously proud of what our council has achieved.
We are one of the first councils across Australia to sign a national pledge to tackle emissions and climate change, to get cutprice solar panels into our community and recently, to incorporate a 400kw solar array into our new water and sewage plants, with plans to double this capacity in the near future.
It may not sound much, but at least we're not sitting on our hands in parliament. My belief is that, as indicated in the Wentworth by-election, we have reached a tipping point where people are no longer going to put up with a soft slap response to the urgent demands of communities to act on climate change.
Politicians can no longer falsely claim they know better than the IPCC, or that we are on target to meet our Paris obligations to reduce emissions.
The truth is we can make a difference. There are opportunities for regional and rural Australia in choosing the clean path – including increased resilience to climate change impacts, new jobs and investment in renewables, energy independence and sustainable agriculture. We need to maintain the pressure on government at all levels to act on climate change, and we need to get loud about it. And then we need to get even louder.