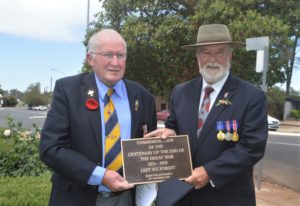 A good crowd of over 100 people gathered in Cooke Park on Sunday to commemorate the Centenary of World War I Armistice Day. President of Parkes RSL Sub-Branch Terry Knowles read out the iconic poem In Flanders Fields by Lieutenant-Colonel John McRae with a parade of ex and service personnel standing at attention. School children
read out the names of the fallen and Paul Dawson's solo performance of The Last Post introduced two minutes of silence.
Parkes Mayor Ken Keith OAM spoke about the enormous effect the war had on the local community with one in four eligible volunteers enlisting.
He said the restoration project of the Feldkanone field artillery gun in Cooke Park had been delayed as the work needed to be authentic and there was a problem acquiring some parts.
The Mayor and President of Parkes RSL Sub-Branch also unveiled a plaque for the Armistice Centenary to be installed in Cooke Park. On Saturday night the Parkes RSL Sub-Branch hosted a special celebratory dinner.
Deputy Prime Minister and Member for Riverina, Michael McCormack could not attend but in his speech read out he said: "In your hearts and minds I am sure tonight you will reflect on the enormous sacrifices made by those men and their families."
More than eight per cent of Australia's population at the time enlisted.