Arthur Parker – Royal Australian Air Force
Arthur Parker joined the Royal Australian Air Force in 1955. He served as a supply supervisor and loadmaster, and was posted to many and varied locations across Australia and overseas during his 21 years of service.
Perhaps the most dramatic was his 1966 posting to Malaysia to support the Vietnam War. He and his family found themselves in the midst of civil unrest. Penang was in total lockdown, and at one point a machine-gun was set up in their garden.
In 1974 Arthur was instrumental in providing support to the Cyclone Tracey recovery effort, which earned him a Certificate of Out- standing Service.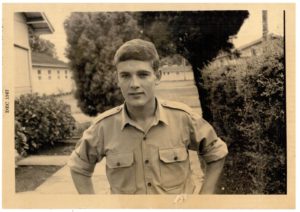 Paul Thomas – Australian Army
Paul Thomas joined the Australian Army in 1967 and served for six years. In 1970 he was deployed to Vietnam for 12 months, and served with 24 other soldiers from Parkes. He said overall the Vietnamese people were good to Australians. "They didn't want to be in the war as much as we didn't want to be there," he said.
"It made me realise how lucky we are in Australia. Their living standards were so much lower."
Paul said that despite the hardships of the war, being there was less challenging than coming home. Many soldiers returned at a time when Vietnam veterans were widely despised.

Karl Martin – Royal Australian Navy
Karl Martin spent 15 years in the Navy, serving in the first Gulf War. Karl served on three ships; the HMAS Success – a replen- ishment ship, the HMAS Sydney- a guided missile frigate, and the HMAS Swan- a de- stroyer escort.
Karl was deployed to the Persian Gulf and the Red Sea, which he described as a very tense time.
They were fortunate enough to not come under live fire during the deployments, although at one point his ship sailed into a minefield.
"We didn't know what we were heading into. We were all just hoping nothing would happen," he said.