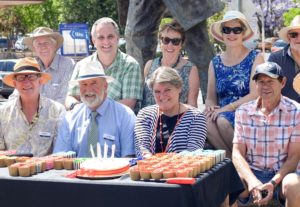 The great bard suggested there was little to it, but last week the name of Parkes was the cause of celebration. Local residents gathered at Chamberlain Square on Thursday, 1st December to enjoy a piece of cake beneath the statue of Sir Henry Parkes. It was a birthday – of sorts – commemorating the 143 years since the township was officially named Parkes in honour of the then Premier of the Colony of NSW, Sir Henry Parkes.
However, the history of settlement on this land precedes that grand milestone. The original custodians of this land were the Wiradjuri people, the largest Aboriginal language group in NSW. The Wiradjuri had visited and lived on this land for thousands of years before European settlement. But that all changed in 1862 with the discovery of gold. White settlers made their way to our plains in the hope of improving their fortunes. A tent village soon sprung up
around the gold deposits, and was known as Currajong, purportedly named after the local trees.
While there was a lot of gold to be found, it wasn't the easy alluvial gold of many other fields. Most of our gold was deposited underground in buried rivers, known as leads and could only be obtained by sinking deep shafts to mine it. In 1871 prospectors found a rich deep lead which they named Bushmans Lead. This discovery sparked another rush and saw the region become one of the richest gold producing areas in the colony and hastened the village's growth.
The burgeoning settlement of Currajong became colloquially known as Bushmans. In August 1873 the Premier Henry Parkes visited the township of Currajong and Bushmans Lead Mine, following a request from locals. Then, on the 1st December 1873, the Lands Department officially changed the name of the settlement from Currajong to Parkes.
Many claim our town was named as a tribute to Sir Henry Parkes, who served five terms as Premier and became known as The Father of Federation. Yet in 1873, Henry Parkes had only been the Premier of the Colony of NSW for a year, and despite nearly 20 years in parliament, was yet to make his mark. According to the Parkes Shire Council's website an anecdotal story suggests the town's naming was actually a savvy political move from locals who were
lobbying the Premier to construct the eastwest rail line through Parkes.
So, what is in a name? A lot of history, and a bit of flattery.
By Raen Fraser