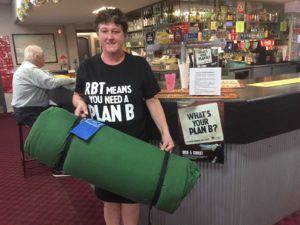 A total of 57 pubs, clubs and bottle shops across the Parkes, Forbes and Lachlan Shire Council areas have joined forces to promote the Plan B campaign.
Plan B is a statewide initiative encouraging patrons to think about an alternative to driving home after a night out.
Drink driving is one of the biggest causes of death and injury on NSW roads. Country people are at particular risk given the lack of public transport or other options for getting home.
Almost 80% of fatal crashes and 57% of serious injury crashes involving illegal alcohol occurred in country areas.
In the Western region there were 368 casualty crashes with alcohol a contributing factor over the past five years resulting in 36 people killed and 219 seriously injured.
Patrons at participating outlets are invited to enter a competition to nominate a Plan B for getting home and can win a swag valued at $250. The winner will be drawn on New Year's Eve.