Have you got your outfit ready for the social highlight of the year, the Parkes Picnic Races on 10th June?
Dressing for the races in winter is challenging as you want to look your stylish best, but also need to keep warm. Here are some suggestions:
Materials and Fabrics: A wool blend/ tweed has a warm, wintery feel. Leather trims can look great or be brave and wear a whole leather garment, like a pencil skirt. Faux fur trims bring a cosy, yet stylish, touch to an outfit.
Shapes and Silhouettes: Be flexible with sleeve lengths because you can al- ways cover up with a jacket or shawl. Play around with different shapes of sleeves.
Winter Colours: Rich jewel tones are favourites in winter, such as navy, maroon, deep purple, copper, emerald green, mus- tard, oranges, tan and the classic black, white and grey. Metallic accessories are fun to play around with too.
Capes and Jackets: A fun addition to an outfit is to wear a cape over the top. Capes come in many different colours and pat- terns and look very on trend.
Gloves: People love to wear gloves in winter. They can be made of leather, suede or wool and come in a variety of different col- ours and lengths ranging from half palm to full length. This can add in an extra colour.
Millinery: Millinery of the season is often made of felt, wool, leather and silks and is adorned with trims such as feathers, leath- er flowers, lace and veiling. Metal crowns
and headpieces are trending too.
Accessories: Metallic accessories are popular and can be a great way to vamp up a dull dress. Think gold, silver, bronze and chrome, as well as stones and jewels.
Shoes: Put away your strappy summer heels and snuggle into enclosed shoes.
(Source: www.milanoimai.com)
Years Of Experience At Janice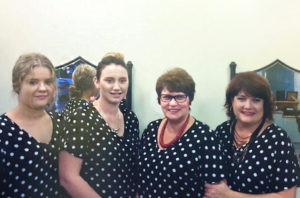 At Janice Cassidy's Hair Salon clients will experience a positive atmosphere and friendly staff. With over 90 years combined experience, the salon offers expertise in all aspects of hairdressing, including style cutting, razoring, colouring foiling and ba- layage, perming and body waves, as well as styling for formal occasions.
On Wednesday you will receive 20% discount on all hairdressing services.
Janice wants to thank her long-term clients and welcomes new patrons.