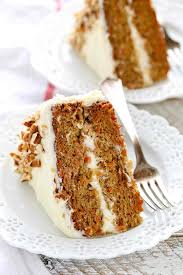 The BEST Carrot Cake
An easy to make cake using carrots on special at Cunningham's IGA this week!
For the cake:
• 2 cups all-purpose flour
• 2 teaspoons baking powder
• 1 teaspoon baking soda
• 1½ teaspoons ground cinnamon
• ½ teaspoon ground ginger
• 1/4 teaspoon ground nutmeg
• ½ teaspoon salt
• 3/4 cup canola or vegetable oil
• 4 large eggs room temperature
• 1½ cups light brown sugar
• ½ cup granulated sugar
• ½ cup unsweetened applesauce
• 1 teaspoon pure vanilla extract
• 3 cups grated carrots
For the icing:
• 227g cream cheese at room temperature
• ½ cup unsalted butter at room temperature
• 2 cups icing sugar
• 1 teaspoon pure vanilla extract
To make the carrot cake:
1. Preheat oven to 180°C. Spray two 22cm round cake pans with non-stick cooking spray.
2. In a large mixing bowl, whisk together the flour, baking powder, baking soda, cinnamon, ginger, nutmeg, and salt until well combined.
3. In a separate large mixing bowl, whisk together the oil, eggs, brown sugar, granulated sugar, applesauce, and vanilla extract until fully combined. Add the grated carrots and mix until combined.
4. Pour the wet ingredients into the dry ingredients and mix with a whisk or rubber spatula until just combined, making sure not to over mix.
5. Pour the batter evenly between both cake pans. Bake for 30-35 minutes or until a toothpick inserted into the centre comes out clean. Remove from the oven, transfer to a wire rack, and cool in the pans for about 20-25 minutes. Remove from the pans and return to the wire rack.
To make the cream cheese icing:
Beat the cream cheese until smooth. Add the butter and mix for about 30 seconds-1 minute until well combined and smooth. Add the icing sugar and vanilla extract and continue mixing until fully combined.
To assemble the cake:
Place one of the cakes on a cake stand, top with a little over 1/2 cup of the frosting, and smooth it out into one even layer. Place the other cake on top and use the remaining frosting to frost the top and sides of the cake. Top with pecans or other toppings of choice if desired.
(Source: www.livewellbakeoften.com)