If you are into food and cocktails, you don't have to go very far to find quality dishes and drinks. The Ikon restaurant at Hotel Grace- lands has a few surprises for you this season.
They are busy working on a new food menu and cocktail menu to offer their patrons something different going into winter.

If you are into fresh ingredients and home made food, so much more reason to book a special meal at the restaurant. The Ikon house makes everything with fresh ingredients. This not only makes for beautiful food, but also ensure the restaurant is allergy friendly all round.
The chefs can tell you everything that goes into each delicious meal. The jus, sauces, aioli, ice creams and desserts are all house made too!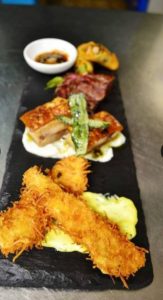 For quality food, book your table at 6862 6236.