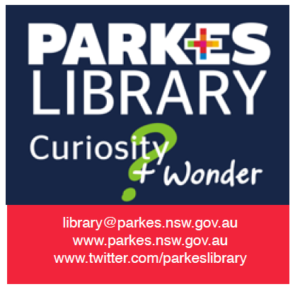 Re-awaken your sense of wonder….Let curiosity lead your life.
LEIGH HOBBS – AUTHOR TALK
Wednesday, 13th September – 6pm
Leigh Hobbs is the bestselling author of more than 20 books which include the iconic Old Tom, Mr Chicken Goes to Paris and Horrible Harriet. Parkes Library is hosting Leigh to present a free session for parents and interested adults. Leigh has a subversive humour that delights children and adults alike. He has committed his two-year term as Australian Children's Laureate "to champion creative opportunities for children, and to highlight the essential role libraries play in nurturing our creative lives." Please come and enjoy this amazing author and illustrator. Bookings are essential on 6861 2309 or library@parkes.nsw.gov.au.
CAKE DECORATING WORKSHOP
Sunday, 17th September – 10am
Parkes local "Kylie's Cakes" will share her tips and tricks in creating the perfect birthday cake for your kids. This is a 2-3 hour hands on free class. Bookings are essential on 6861 2309 or library@parkes.nsw.gov.au.
PARKES FUN PALACE
Saturday, 23rd September
Fizzics Education is coming to Fun Palace with their robotics workshops! 9:30am – Big Science Big Fun Show – See
gigantic bubbles, flying toilet paper, hairraising electricity experiments, fire balls, coloured shadows, a flame equalizer and much more! This is an event for the whole family!
• 11:00am Beebots – Beginner robotics (Kinder, year 1 and 2)*
• 12:30pm Lego Robotics – Lego robots "Mindstorms" (year 3-6)*
• 1:45pm Lego Robotics – Programming robots (year 7-10)*
*Limited places. Cost $2. Bookings in person at Parkes Library.