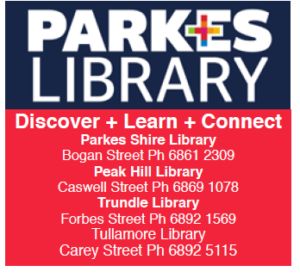 GAME ON SUMMER READING CLUB
Super charge your summer and register today at any Parkes Shire Library for the Game On Summer Reading Club. It is open to all from birth to 17 years and is free to join. The GOAL is to read over 974 books from 1st December until 31st January 2018. Why 974? It is the most runs scored in a cricket test series achieved by Don Bradman in 1930. If the reading goal is reached it will trigger a Game On award ceremony where members for each completed reading record (10 books) will get to throw a wet sponge at a library staff member. Yes – a wet sponge! Read 30 books and you will get three sponges to throw!
GIFT A BOOK
The community is invited to gift a book under the Libraries Christmas Trees until Friday, 22nd December. The books will go to 200 schools in remote areas of northern Australia as part of the Aboriginal Literacy Foundation "Books and Library Project".
1. Purchase a book for a child between birth and 12 years.
2. Wrap the book in Christmas paper.
3. Put a tag on with the child's age the book is suitable for.
4. Bring it into your library and put it under the Christmas tree.
ART OF AGEING EXHIBITION
Parkes Library, 5 to 21 December Our community is changing. We are getting older. We are living longer. By 2031, one in three people in NSW will be 50 or older. But older people aren't all the same, they live diverse lives. How they experience ageing,  and how they want to age is unique. The NSW Department of Family and Community Services have been documenting the lives of older people. The photos and stories captured make up the Art of Ageing exhibition on at Parkes Library from 5 to 21 December. Join the Library team for morning tea to celebrate our older people community on Tuesday, 12th December at 10am.