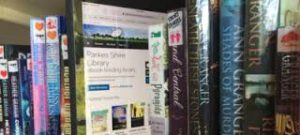 GET INVOLVED IN SKYWRITERS!
Have you gazed at the night sky with wonder, curiosity and awe? Yes? Then you are ready to become a skywriter! Writers and aspiring writers in the Parkes Shire are invited to join the Big Skies Collaboration Skywriters project to author stories, in any genre, that have a celestial (about the stars) theme. The Parkes Skywriters hub will offer a series of free writing workshops, plus support from professional editors, to author new works to publication quality.
Launch: Wednesday 22nd March at 10am at the Parkes Library. Please RSVP on 6861 2309. If you are interested in becoming a skywriter and are unable to make the launch register your interest with Shellie, shellie.buckle@parkes.nsw.gov.au or 6861 2338.
AUSTRALIAN INSPIRATION TRAVELLING EXHIBITION
24th March to 6th April. Before they became celebrated Australian icons, the koala and waratah left early colonists almost star struck by their unique appearance! Explore how the koala and the waratah were first depicted over 200 years ago, and how they have evolved over time to quickly become national icons at a State Library of NSW travelling exhibition at Parkes Library. Australian Inspiration will not only tell the evolving story of our national icons, but also showcase the role of the State Library of NSW's extraordinary collections in arts and design.
WASTE TO ART ANNUAL COMPETITION AND EXHIBITION
Waste to Art is a community exhibition showcasing imaginative works made from reused and recyclable waste materials. The aim is to challenge peoples' perceptions about rubbish and to celebrate the reuse and recycling of waste through arts and crafts. Entries close 1pm on Monday 10th April.