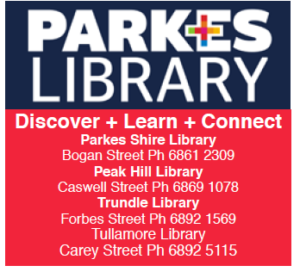 THE WELLBEING PROJECT EXHIBITION
Opening Preview – Parkes Library, 4pm Friday, 4th May Exhibition 5 – 19 May
Join the Wellbeing Project participants with facilitators Pol Cruz and Maralyn Nash to celebrate the work created through the project. Please RSVP to library@parkes.nsw.gov.au or phone:02 6861 2309.
DIGITAL MAGAZINES
Access complete digital magazines, eBooks and eTalking books through Parkes Shire Library today!
• Read magazines for as long as you want – no loan periods, no limits on how many magazines that can be borrowed.
Borrow an eBook or online talking book for four weeks.
• Browse and select from a wide range of titles, genres and authors.
• Instantly stream on your PC or Mac or download them to mobile devices. Women's Weekly, Better Homes and Gardens, Caravan and Motorhome, Gardening Australia and Men's Health are just a
few of the popular magazine titles available. Current listening favourites are the talking books Altar of Eden by James Rollins, The Dressmaker's Dowry by Meredith Jaeger and Plan Truth by Jodi Picoult. Latest additions to the eBook collection include Sisters Like Us by Susan Mallery, The Red Dirt Road by Alissa Callen and Hangman by Jack Heath.
Access to Parkes Shire Library free online collections is simple and only requires a current library card. The RBdigital app provides access to the online magazines, while ePlatform is where library members can borrow eBooks an eTalking Books. Visit your online Library today – www.parkes.nsw.gov.au/things-to-do/parkesshire-libraries/my-online-library/
EBOOK AND EMAGAZINE HOW TO
Parkes Library, Friday 25th May 10.30am
Bring your device or laptop and join us for a cuppa as the Library team shows you how to access the Library's online downloadable collections.