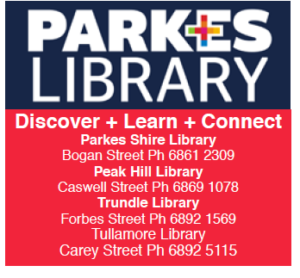 SATURDAY MORNING STORYTIME!
11am – 12pm, 1st, 8th & 15th September
Families are invited to find the hidden Library treasures! Fun, Play, Games, Stories, Make, Discover. For school aged kids.
COMMUNITY TALK – RETHINKING CLOTHING CULTURE
Friday, 31st August at 6pm
In an era dominated by passive consumption of cheap and synthetic fashion, Jane Milburn presents a compelling case for why we need to change the way we dress to live lightly on Earth through everyday practice. Slow Clothing is a holistic approach to what we wear that considers clothes in the context of health and wellbeing. Please RSVP by 30th August – parkes.libary@parkes.nsw.gov.au or 6861 2309.
WORKSHOP – TRANSFORMATIONS FROM NATURE
Saturday, 1st September from 9am-4pm
Community Centre Cooke Park
With Jane Milburn you will experiment with colour using natural materials from your wardrobe, kitchen and garden. Find an unloved natural-fibre garment or two from your wardrobe, wool and silk (work best) or linen and cotton. Using onion skins, tea, leaves, flowers, bark and rusty tools, we refresh and transform them for a second life. Suitable for beginners, age 12+. Cost: $10. Bookings required with payment at Parkes Library.
WORKSHOP – SNIP AND STITCH UPCYCLING
Sunday, 2nd September from 9am – 4pm
Jane Milburn will help you transform t-shirts and other clothes using scissors and stitching. Bring along a few unloved natural-fibre garments, options for upcycling them will be explored and changes enacted using handstitching techniques or machine sewing (for those with a machine to bring along). Some sewing experience preferred. Age 15+. Cost: $10. Bookings required with payment
at Parkes Library.