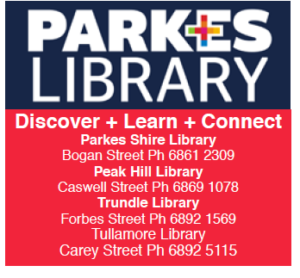 SATURDAY STORYTIME!
8 and 15 September from 11am – 12pm
For families with school aged kids. Families are invited to find the hidden library treasures! Fun, Play, Games, Stories, Make, Discover
PARKES FUN PALACE
Saturday, 22nd September, 9am – 3pm, Parkes Library ALL DAY!
Join the Parkes Library team for a family day of science, play, art and games! Activities include: fingerprinting, dancing ballerinas, stortyime with pets, community art collage, sausage sizzle and more…
ADVENTURE QUEST
9:30 – 10:30am AND 11am – 12pm Free. Book please.
All you need is a little imagination! Families are invited to join this interactive show based on the ideals in the "Choose Your Own Adventure" books. Music, storytelling, drama and dance in one all-inclusive show!
TRASH PERCUSSION
1pm – 3pm Free. Bookings required.
This workshop is a whole lot of LOUD fun! Anything and everything can be used as a musical instrument and everyone can play music. Kids aged 8 and older can join this music workshop hosted by Ian from Fun Day Out.