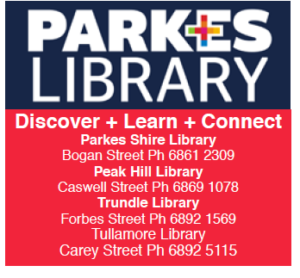 PARKES FUN PALACE
All day! Parkes Library
Saturday, 22nd September 9am – 3pm,
Join the Parkes Library team for a family day of science, play, art and games! Activities include: fingerprinting, dancing ballerinas, storytime with pets, community art collage, sausage sizzle and more….
Adventure Quest
9.30am – 10.30am, AND 11am – 12pm
All you need is a little imagination!
Families are invited to join this interactive show based on the ideals in the "Choose Your Own Adventure" books. Music, storytelling, drama and dance in one all-inclusive show! Free. Limited numbers.
Trash Percussion
1pm – 3pm. Free. Limited numbers.
This workshop is a whole lot of LOUD fun! Anything and everything can be used as a musical instrument and everyone can play music. Kids aged 8 and older can join this music workshop being hosted by Ian from FunDayOut.
AUSTRALIAN READING HOUR – TAKE THE TIME
During September all of Australia is encouraged to pick up a book and escape in its pages for an hour. For children it has been shown reading helps with identity formation, setting them up for success in the future. For adults reading can reduce stress by 68% more than listening to music, going for a walk or having a cup of tea. To celebrate Reading Hour Parkes Library is launching its newest pre-schooler program – Once Upon a Storytime. The Parkes Library team will stop what they are doing at 10.30am on Tuesday, 25th September and share the joy of reading. Pre-schoolers their parents and carers are invited to participate in the first ever Parkes Library Once Upon a Stortyime.