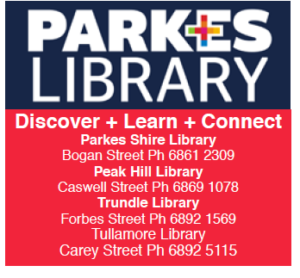 AUTHOR TALK – Noel Braun
Noel Braun embarked on a spiritual quest of self-discovery after the suicide of his wife Maris. He decided to walk two of the more popular routes of the Camino de Santiago, the ancient pilgrimage routes through Europe to Santiago in the north-west of Spain. His two most recent books, 'The Day was Made for Walking' and 'I Guess I'll Just Keep
on Walking' describe his journey. Woven into his spiritual and emotional journey are fascinating stories of the people he meets. Noel undertook these pilgrimages in his late 70's and early 80's. Last year at the age of 84, he embarked on a fifth journey. All his walks are dedicated to the memory of his wife. Noel, an advocate for suicide awareness and prevention, will be at Parkes Library on Thursday, 11th October at 2pm. Please RSVP on 6861 2309 or email library@parkes.nsw.gov.au.
ONCE UPON A STORYTIME
Tuesday 10.30 – 11.30am. During school term; commences Tuesday, 23rd October. Come and enter into the wonderful world of books. We will have our own very special storyteller who will guide us through many adventures.
Who: Children 3-5 years and parents/carers (younger children welcome).
BORROW ANY TIME, ANY DAY
Parkes Shire Library RBdigital, offers full colour, interactive digital magazines for your enjoyment. Browse from the collection of popular titles with no holds, no checkout periods, and no limit to the number of magazines you can download. Go to www.rbdigital.com/parkes/ You can browse and download popular books on your computer, laptop, eReader, phone or tablet from the Parkes Shire Library eCollection. You can borrow three eBooks or eAudiobooks at a time. Go to parkesshirelibrary.wheelers.co/