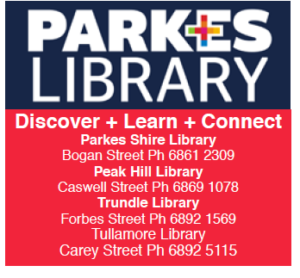 SPECIAL GUEST – PARKES BRIDGE CLUB
7 and 14 November, 2pm – 4pm.
Have you ever wondered how to play the card game Bridge? The Parkes Bridge Club will be visiting Parkes Library to share the secrets of the game. If you would like to learn about Bridge but are unable to make these sessions the Parkes Bridge Club meets upstairs at the Parkes Leagues Club Mondays at 6pm, Tuesdays at 1pm and Thursdays at
1pm. It costs $5 a session ($40 for a year's membership) and lessons are available. For more information visit the website www.parkes.bridge-club.org/, or call the secretary Robyn Sheridan on 6862 5451.
NEW PROGRAM – ONCE UPON A STORYTIME
Tuesday 10:30am – 11:30am. During school term.
Come and enter the wonderful world of books. Have fun hearing and reading stories together. We will have our own very special storyteller who will guide us through many adventures. Who: Children 3-5 years & parents/carers (younger children welcome).
NEW FEATURE – DIGITAL MAGAZINES
Parkes Library's digital magazine collection has a new feature! Library members can now set their digital magazine account so that it will automatically check out new issues of magazines as soon as they are available. This allows members to always have the latest issues of their favourite magazines waiting for them to read. Borrowing from the Parkes Shire Library online collections is free. Visit your local library to join and for how-to-instructions..
LIBRARY BOOK CLUB – PARKES AND PEAK HILL
The Library Book Clubs run on a simple formula: gather people, pick a book, read it and get together to discuss!
Peak Hill Library: 6pm – 7pm, first Wednesday of the month.
Parkes Library: 3pm – 4pm, last Wednesday of the month
Parkes Library: 6pm – 7pm, last Thursday of the month