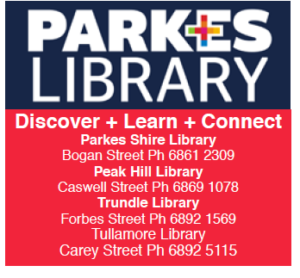 JOIN NOW – Summer Reading Club Time!
The time has come for kids to visit the library and join the Parkes Shire Library Summer Reading Club for a fun time! Curious Creatures will take over your summer reading! The goal this year is to find a combined total of 1,000 Curious Creatures in the stories read over summer. There will be a huge party in February if this goal is reached.
EXHIBITION – Art Forged from Miscellany
15 – 31 December, Parkes Library
Official Opening: Saturday, 15 December at 10:30am
Art Forged from Miscellany is an exhibition that has grown from the desire to bring together a variety of experimental projects, encouraging artists and musicians to work in areas away from their usual techniques. The goal is for artists to explore sounds and musicians to deal in pictures made with words to create different and unique compositions. Poems were the basis for these experimental processes in soundscapes, accompaniment and animation. As much art is produced under stress it is hoped to create a freer release and generation of ideas. Artists involved include: Sean James Cassidy, Dustin Howearth, Jason (Nacho) Murchie, Matthew Cicchini and Jim Cassidy.
OPENING HOURS – Christmas and New Year
PARKES
22 to 26 December: Closed
27 and 28 December: Open 9am – 5pm
29 December: Closed
31 December: Open 9am – 5pm
1 January: Closed
PEAK HILL
25 and 27 December: Closed
1 January: Closed
3 January: Normal hours
TRUNDLE
27 and 28 December: Closed
3 January: Normal hours
TULLAMORE
Closed: 26 December
2 January: Normal hours