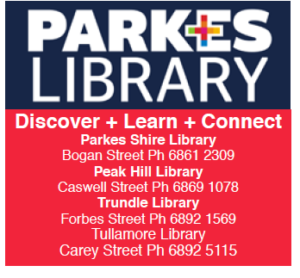 REUSE, RECYCLE, UPCYCLE FOR WASTE TO ART
Entry is free and closes on Thursday, 28th March at 5pm
Parkes Shire Council invites the Parkes Shire community to get creative and enter the Parkes Local Sims Metal Waste To Art & Design 2019, which is a community art exhibition and competition.
This year's theme is Baling Twine and Strapping. Artworks do not have to use the theme waste, but an additional prize will be given to an artwork featuring this form of material.
The exhibition will be open for viewing from 4 to 26 April. The winners will be announced on Thursday, 4th April at 6pm. Entry forms are available at any Parkes Shire Library, library@parkes.nsw.gov.au
SCIENCE TALK – DR JANE KACZMAREK
Thursday, 21st March 6pm Parkes Shire Library
Dr Jane, an astrophysicist at the Parkes Radio Telescope will explain how the recent multi-million-dollar upgrade to the telescope has continued to make The Dish a world leader in scientific research and detail how astrophysicists across the world use Parkes to answer some of the universe's big questions. RSVP: 68612309 or library@parkes.nsw.gov.au
COMPUTER CLASS RECOMMENCES
Every Thursday 9am to 11am Parkes Shire Library
If you want to learn to use a computer or just some new skills come and join our computer class. You will be guided through a series of self-paced tutorials that you can also access from home.