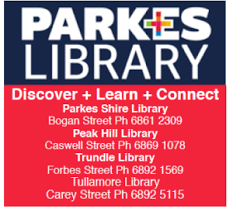 BOOK SALE
Time for Parkes Library's annual book sale. Opens Monday, 6th May to 11th May Prices start at 50 cents, many bargains!
NATIONAL SIMULTANEOUS STORYTIME
Wednesday 22nd May, 9:30am and 11:00am Alpacas with Maracas by Matt Cosgrove is the book to read and enjoy together this year. National Simultaneous Storytime (NSS) is an annual campaign that aims to encourage more young Australians to read and enjoy books. This is the 19th successful year of reading fun. Parkes Shire Library will host this event in the Coventry Room with pre-schools and child care facilities already booked in for both sessions. Please bring your pre-school age children to either session and have a great time reading a colourful, vibrant and fun story together as a community.
JUNIOR CODE CLUB
WHEN: Starts Tuesday, 7th May 4pm – 5pm Explore technology and learn to use Scratch to create your own cool projects. Designed for those with no prior knowledge. This is run over six weeks, one afternoon per week. Bookings are essential, please come into Parkes Library to register your child prior to starting date. Don't be disappointed places are limited.
HUBLET
Offering a new form of digital access to our customers at Parkes Library. Loan a tablet for use anywhere in the library and complete your banking, emails, book reading or any other digital activity from the comfort of our lounge chairs. This tablet when docked will have all personal activities removed, protecting your online privacy and details.
This is a self-service facility. All you need is your library card and your password. Acting Cultural, Education and Library Manager, Andrea Lovell said: "This is another tool to support equal access to the digital world for our community." Come in and take the opportunity to relax and complete your online activities within a safe, secure and pleasant environment. Staff are very happy to show you how to use the Hublet.