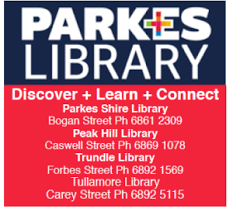 PARKES LIBRARY IS ON THE MOVE!
The big news is that during June/July Parkes Library is going to pack up and move to a temporary location in Clarinda Street for one year. The present library space is about to undergo extensive renovations and expansion. Stay tuned for further details.
TO THE MOON AND BACK ART WORKSHOPS
Saturday 22 & Sunday 23 June
Midday – 4pm
Cost: $20 per student
Regional Arts NSW and Parkes Shire Library invite 12 to 17-year-old students to a weekend art workshop in celebration of the 50th anniversary of Parkes' role in the Apollo 11 moon landing mission. Experienced local artist Leanne Wilson will lead the workshops and participants will produce a canvas artwork which will be displayed at a public exhibition during the anniversary celebrations. Places are strictly limited, book early to secure a place. Bookings and payment at Parkes Library.
AUTHOR TALK AND AUTHOR WORKSHOP – AMANDA HAMPSON
Wednesday 19 June
Author Workshop: 10am – Midday
Author Talk: 6 – 7pm
Amanda Hampson grew up in rural New Zealand. She spent her early twenties travelling, finally settling in Australia in 1979 where she now lives in Sydney's Northern Beaches. In researching her upcoming novel, Sixty Summers, Amanda embarked on a European trip retracing her own youthful journey from the 1970s. She is the author of two non-fiction books, numerous articles and novels The Olive Sisters, Two for the Road, The French Perfumer and The Yellow Villa. Bookings required due to limited places at Parkes Library, library@parkes.nsw.gov.au or call 6861 2309.
BOOK CLUB
Peak Hill – First Wednesday of every month @ 6pm
Parkes – Last Wednesday of every month @ 3pm or Last Thursday of every month @ 6pm