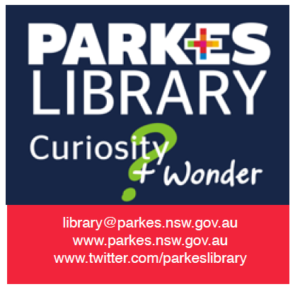 PARKES FUN PALACE
Saturday, 23rd September – 9am to 3pm
Join the Parkes Library team tomorrow for a family day of art, science, play and games! Activities include: scavenger hunt, fidget spinner art, racing cars, straw rockets, drawing shadows, citizen science and special guests from the Central West Astronomy Society for day time sky gazing. And… science, robotics and coding!
Fizzics Education is coming to Fun Palace!
9:30am Big Science Big Fun Show family event – See gigantic bubbles, flying toilet paper, hair-raising electricity experiments, fire balls, coloured shadows, a flame equalizer and much more!
11.00am Beebots – Beginner robotics (Kinder, Year 1 and 2)*
12.30pm Lego Robotics – Lego robots "Mindstorms" (year 3-6)*
1.45pm Lego Robotics – Programming robots (year 7-10)*
*Limited places. Cost $2. Bookings in person at Parkes Library.
SCHOOL HOLIDAY ACTIVITIES
MAD SCIENCE- Shake, Freeze, Sprinkle?
Have fun exploring science with items from the kitchen with hands on experiments, stories and finish the morning making your very own ice cream from scratch! For Kinder to Year 2 on Tuesday, 26th September & Tuesday, 3rd October, 10:30am -12pm
INSIDE YOUR INSIDES!
How many times does your heart pump a day? How long are your intestines? Answers to these questions and more plus make a 3D model of your insides. For Year 3 to 6 on Thursday, 28th September & 5th October, 10:30am -12pm. Bookings required for above sessions in person at Parkes Library. Cost $2. Wear old clothes, bring your drink bottle & library card.
'QUIZZ-ITCH' Harry Potter Quiz Show!
Come and join the wizard of quiz, master of mirth, magic and all things Potter – Andy Jones – the official Wizard of Quiz and the 'Quizz-itch' quiz master of all things Hogwarts and Potter. Dress to impress as your favourite Hogwarts character. For families & Harry Potter lovers. Tuesday, 3rd October, 2pm. Let us know you are coming – 6861 2309 or library@parkes.nsw.gov.au