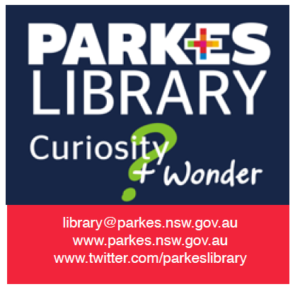 FABULOUS FELT EXHIBITION
Artists: Cecily Walters and Toni Morrison 9th to 31st October at Parkes Library Felters and sisters, Cecily Walters and Toni Morrison have been felting for about seven years creating wearable felt items such as hats, scarves and vests, home decor items like pods and vessels, as well as felted wall art. All wool is hand dyed to create a unique and vibrant range of colours. Along the journey they have taught a number of classes and successfully exhibited throughout the Central West.
LET'S TALK ABOUT MENTAL HEALTH
1.30pm & 6pm on Monday, 23rd Octobe at Parkes Library A free talk with Jeremy Godwin author of Mental Illness Sucks! (But It's Not The End Of The World). Come and hear Cootamundra- based Jeremy Godwin talk about this new book, which is full of practical ways that you or your loved ones can survive and thrive in spite of mental illness. This free talk runs for 45 – 50 minutes and there will be a question and answer session at the end. Signed copies of Jeremy's new book will be available for purchase on the day. Please book your spot by Friday, 20th October on
6861 2309 or library@parkes.nsw.gov.au.
TRUNDLE POP-UP BOOKCLUB
Book: The Light Between the Oceans. Thursday, 19th October @ 2pm. Join Debbie for Trundle Library's first ever pop-up book club! Afternoon tea & discussion. Pick up your book from Trundle Library today.
FREE COMPUTER TRAINING
Parkes Shire Library members have FREE access to a simple online training solution for learning how to use popular computer applications including Introductory Computer Training lessons for those just starting to use computers. Training and support sessions are held at Parkes Library during school terms on Thursdays from 9 to 11am. Please call Parkes Library on 6861 2309 to book for a session.