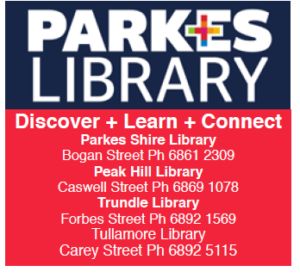 MR CHICKEN RETURNS TO PARKES LIBRARY
Leigh Hobbs: Characters from the Drawing Board – 5 February to 2 March
An exhibition of works created by legendary Australian author and illustrator Leigh Hobbs will be on exhibit at Parkes Library during February. Leigh Hobbs: Characters from the Drawing Board takes a close look at some of Leigh's characters, in particular, Old Tom, Horrible Harriet and Mr Chicken. The exhibit shares information about Leigh, his art and the development of his characters.
STORYTIME
Stories, music, craft on Wednesdays from 10.30 – 11.30am.
Help your child to develop and explore early literacy skills in a creative, fun environment. For children 3-5 years and parents/carers (younger children welcome).
RHYME TIME
Read, Talk, Sing, Rhyme on Thursdays 10.30 – 11.15am. Spend special time with your child reading, rhyming, singing and dancing together. For children 0-3 years and parents/ carers (older children welcome).
LITTLE BANG DISCOVERY CLUB
An introduction to science for little people from 13 February to 6 March, 10.30 – 11.30am
This fantastic four-week STEM (Science, Technology, Engineering and Maths) program will develop ideas and skills that inspire further scientific exploration, discovery and learning. Each child and their parent/carer work together on hands-on activities, question and answer time. A Discovery Box and book is loaned to each child for the duration
of the sessions. Engage with your child in the learning process whilst having loads of fun. Only eight places available for children and their parent/carer per session and attendance is required for all four sessions. Bookings required in person before the first session starts.