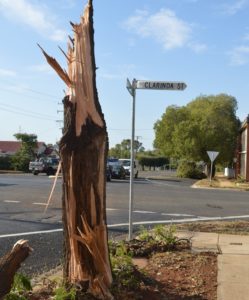 A severe storm with lightning, rain and hail caused severe damage in Parkes on Tuesday night. The wild weather with wind gusts of up to 98km/h uprooted trees and blew off roofs just before midnight, left thousands of people without power and caused thousands of dollars in damage, mostly on the eastern and southern side of town. There were fortunately no reports of any injuries.
Emergency services crews, assisted by Council crews, started responding through the night and continued on Wednesday and the rest of the week to the high number of calls received, and clearing storm debris that made some streets look like a war zone.
Bill Dudley in Orange Street was very relieved he was at the back of his house when a mature pine tree fell on his roof causing  severe damage. Many residents could not believe the destruction caused by the storm. "I have never heard the wind blow like that," said one, while another said: "I saw the wind pick up our trampoline and dump it on the washing line, squashing it!"
By 3pm on Wednesday the power outage to most of the more than 3,000 homes and businesses was restored. Some households had a blackout of more than 15 hours. David Crough of Essential Energy said the storm caused significant damage to the power network. Additional crews and equipment from Bathurst, Forbes, Narromine and
Orange had to be brought in to assist.
Council notified residents that once the urgent jobs were dealt with, storm debris and green matter would be collected from the kerbside. Residents can also deposit green and mixed waste caused by the storm to the Parkes Waste Facility free of charge until close of business on Sunday.
For trees down in backyards and damage caused to personal property, you need to contact the SES on 132 500.
By Maggi Barnard