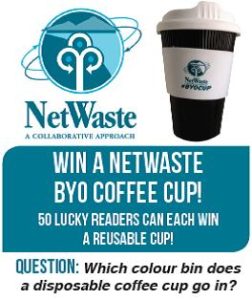 It looks like there is still a lot of confusion about which bin a disposable coffee cup should go into. The correct answer is the red bin. Disposable coffee cups cannot be recycled because of a plastic coating on the inside of the cup. That is why it is very important to make use of a reusable cup to help reduce the ONE BILLION cups going to landfill in Australia every year!
Congratulations to the following winners! Donna Stone, Liz MacRaild, Dale Allen, Bridget Lee, Julie Fisher, Janine
Hando, Michael Craft, Jo Tye, Joe Kinsela, Valerie Chisholm, Katie Hetherington, Nicole Tolhurst, Belinda McCorkell, Claire Barber, Christie Crowe, Oscar Hendry, Daniel Greef, Carla Greef and Tony Sansome.
Onnie Coffee shows the way! The lucky winners can pick up their cups at Onnies Coffee in Parkes filled with a coffee kindly sponsored by Onnies! And if you go back to Onnies with your BYO cup you will get a discount on your coffee! Let's all support the drive to reduce the use of disposable coffee cups! Remember to keep your reusable cup in the car, with your reusable shopping bags!
If you did not win this time around, we have more cups to give away and will run another competition in October!