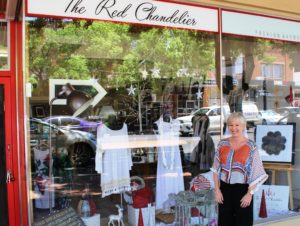 With most of the Christmas lights and decorations packed away for another year, one business owner in town is still glowing with the result of her effort. Local boutique, The Red Chandelier won the Best Dressed Window Competition that was run as part of Parkes Shire Council's Shop + Win promotion and main street illumination project.
Janine Simpson's winter wonderland display sparkled enough to catch the judges' eye as they looked for the best initiative to fit the 'sparkly after dark' criteria to help ignite the Parkes main street shopping precinct. "I was really gobsmacked to win," said Janine. "It was really lovely to receive this kind of recognition 12 months after opening my business." She received a $500 advertising prize package as part of next year's Christmas shopping campaign.
Janine said her window displays often lead to lots of conversations with her customers. Council's Economic and Business Development Manager, Anna Wyllie said the effort that local businesses had put into dressing their window displays had contributed to the overall atmosphere in the main street. "We are so pleased with how the main street has come alive with the illuminations and lights sparkling on buildings and the local business owners in the main street have certainly added their own element of sparkle to provide a great spectacle for locals and visitors to our town," said Anna.
The Shop + Win promotion is still running with the chance of winning a trip to Las Vegas valued at $4,000. This campaign runs until  the final day of the Parkes Elvis Festival.