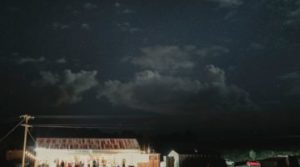 A Cracker Of A Weekend Around The Fire
Over the past decade, Orange has become recognised as one of Australia's finest culinary regions. The first ever Orange Winter Fire Festival will have the town bursting with great food, drink and cultural events, all with a wintry flavour from 3rd to 5th August. The festival will capitalise on the town's winemaking status as some of the best local drops are showcased at events inspired by classic Australiana images, such as crackling bonfires and chargrilled feasts.
The festival kicks off on Friday with the nearby village of Millthorpe being transformed into a winter wonderland as country-folk duo Smith and Jones light up the stage and Pym Street bustles with food and wine market stalls. Meanwhile, back in Orange, Ross Hill Wines will host acclaimed chef Michael Manners, who'll serve up a casual meal of soup and paella by an outdoor fireplace.
The fire theme continues on Saturday. The standout event sees Small Acres Cyder, See Saw wines and Canobolas Dance Hall join forces for a raucous night of 'wassailing' by the bonfire in preparation for spring. For the uninitiated, wassailing is an ancient act of chanting to trees, thus ensuring their prosperity. There will be poetry sessions, 'astronomical journeys', char grilled feasts and rich red wines under expansive starry night skies, huddling up to a fireplace in a country pub or restaurant for a Sunday roast plus so much more over the festival. A road trip to the Orange Winter Fire Festival would make for a pretty perfect winter weekend.
Orange Winter Fire Festival 2018 will take place from Friday, August 3 to Sunday, August 5. Head to www.orangewinterfirefestival.com.au for event and ticket information.
A Trove Of Beauty
Discover a treasure trove of beautiful crystals, fossils giftware and unique jewellery sourced from around the world. Semi-precious stones of every colour, unusual silver pieces, quality statues and funky costume jewellery. Be tempted by Worldly Treasures in Orange.
Unique Rings And Other Collectables
If you need shelter from the cold, Second Chance Collectables is a good place to go browsing. It is a licenced second-hand dealer for furniture, ceramics, silver and silver plate, glass and crystal, jewellery and watches, metals, kitchenware, artworks, clocks, toys, militaria, books and ephemera, precious objects, religious works, and other goods with age and interest. While most antique items date from before 1900, you will also find more contemporary items including Australian handmade jewellery and Moorcroft ceramics including current open ranges, numbered editions and limited editions. The resizing of jewellery is also available in store. The store, with clients Australia wide, is open seven days a week.
Make A Statement With Cinnabar Clothing
Winter does not need to be dull. Head into Cinnabar for an eclectic, funky mix of random goodies including clothes from Ruby Yaya, Boom Shankar, Lola Soul and many other great brands. There are scarves for every day of the year. It's hard not to want everything in the shop. It's a great place to be with lots to look at.
Dinner, Damper And Dessert With Poetry
Head to Molong on Saturday, 4th August when the Freemasons Hotel hosts a Winter Fire Festival event from 7pm. Enjoy a night of original contemporary Australian poetry and music provided by renowned storyteller, Frank Povah. Frank is an experienced character that will leave you captivated and in laughter. He will sing, tell stories and much more while you enjoy a camp oven dinner, damper and dessert. Call the Freemasons Hotel to book on 6366 8512. Tickets $30 pp. The Freemasons Hotel and Accolades Restaurant are located at 1 Bank Street Molong.