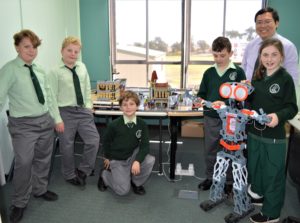 A multilingual IT teacher who allows his students to go on fantastic adventures through building and programming Lego models might sound like a modern day version of Mary Poppins, but this is a real life movie playing every day at the Parkes Christian School (PCS).
It is recess time and the computer lab of Clarence Goh, or Mr Goh as the students call him, is packed with kids in their element. It feels more like a hands-on high tech toy shop, but as the only Google Certified Trainer and Innovator in the Central West, Clarence is helping PCS move towards more project-based learning in the IT and Robotics department.
"The best way to learn is through play," says Clarence. "Students need to know, see and feel when they learn, only then will learning become tangible." The biggest project so far is an automated city built with Lego by primary students, and programmed by the more senior students to make it work on voice commands.
The cinema, playing real movies, is programmed with the world's smallest computer. It has been in the making
for about a year and involves over 100 students. This is the project Clarence will be taking to show in Sydney next week where he was asked to represent Google at Edu-TECH Australia 2018, the largest education exhibition in Asia-Pacific and the Southern Hemisphere.
As the students proudly display projects they have been working on, Clarence points out several that will be entered into the Young ICT Explorers Competition for Information and Communication Technology (ICT) related projects held in August. The Lego City will be entered, as well as the Rubik Cube Solver, built and programmed by Caleb Hill and Brayden Varcoe.
"It took us two months to build and then another year of problem solving to make it work properly," said Caleb. "It was hard to build, and we had so many problems, but it felt so good to finish it," said Brayden. While Alek Smith plays the Lego guitar he built and programmed, and Aaron O'Rourke demonstrates a Lego gear system he designed that can lift up to 100kg, Johnny the dancing robot shows off his gymnastic moves and Bellah Hewett fits a virtual reality device on her head to explore a new environment.
"I love coming here as I am learning so much about technology and other subjects," says Bellah. In August Clarence will be taking hands-on learning outside with a very special project. "We will launch a robot, called a Raspberry Pi with a GPS, temperature and humidity sensor, into near space to an altitude of 50km using a high altitude balloon and broadcast live images to earth via telemetry."
With his eyes glinting just talking about this space project, Clarence says: "It makes me very happy to see the students so engaged. It gives me a lot of job satisfaction."
In addition, his lab is providing a challenge for students to prove themselves and this has brought about a significant reduction in anti-social behaviour and an improvement in other subjects too as students see the purpose of learning and attending school.
The computer lab, connected to wi fi, also doubles as a language classroom where Clarence teaches Japanese with the help of technology. At the mention of Japanese a student jumps up and asks Google: "How do you say supercalifragilisticexpialidocious in Japanese?" … every school needs a high tech 'Mary Poppins'!