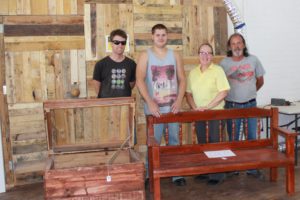 If you've ventured from Clarinda Street a little, you might have stumbled upon a curious new shopfront on Dalton Street. The Brighter Futures Lending Hands workshop is a unique blend of retail space, workshop, and not-for-profit program for the longterm unemployed. Inside you'll find a team of people practicing their newly acquired woodwork and craft skills.
The participants work with recycled materials, such as wooden pallets or discarded furniture that can be repurposed into something new and functional. The crafty crew have made coffee tables, book cases, glory boxes, and a garden bench that was created out of an old bed. They've even built their own wall as a practical and cost-effective solution to the sawdust generated by the woodwork.
Creative Supervisor Debbie Robson said that it's a fantastic program that gives the participants practical skills in a simulated workplace. "It's great to see the group share skills and work together as a team," she said. "There are usually stereotypes around the unemployed, but we've found that people really want to do something and be involved."
Woodwork supervisor Mark Horner said he enjoys mentoring others. "You get satisfaction that you've been able to help them. You're giving them confidence and hopes for their future," he said. Patrick, a participant, said he was looking forward to completing a wishing well for a private commission. "It is a really supportive environment, and it's good to learn to use tools that I haven't used before," he said. John has been in the program for several months. "It's a great learning experience,
I've developed woodworking skills I didn't have before," he said. The good news? Everything they make is for sale, at very affordable rates. Members of the public can purchase hand-made, recycled furniture that has its own bespoke charm and a guaranteed sustainable origin.
By Raen Fraser