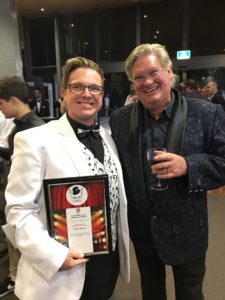 For James Whalan there is no difference between work and non-work hours as he fills all of it with his passion, music. Last weekend he received recognition for all the work he puts into his 'after hours' music ventures when he won a Canberra Area Theatre (CAT) Award.
He was nominated with five other people for the Patricia Kelson Encouragement Award for his first-time musical direction of 9 to 5 with the Parkes Musical & Dramatic Society.
"It was very exciting," said James, who is regional co-ordinator and singing teacher at the Mitchell Conservatorium.
James has been involved with the Parkes M & D for ten years, playing the lead role of Frederick in the Pirates of Penzance among other roles, as well as assisting with directing in various productions.
"9 to 5 was the first show I was not on stage. It is very encouraging to win an award for my debut as musical director." James said Parkes was very fortunate to have such an array of talented people from singers and actors to backstage crew and musicians. "We are one of the smallest communities in the CAT and has one of the greatest bands in the Central West."
The Parkes M & D Association was also nominated in the Best Technical Achievement category for the flying car in Chitty Chitty Bang Bang, and the Best Ensemble for the three lead girls in 9 to 5.
By Maggi Barnard