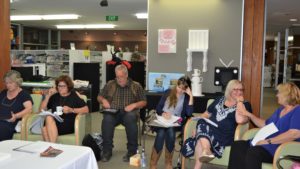 Do you feel like you have a novel, a memoir or a travel book in you, waiting to be crafted? Do you like to journal, write poetry or short stories? Sometimes writing can be highly rewarding but also a very lonely enterprise. It can also be a daunting one, if you haven't written anything before, or when you realise how many words you still need to write!
There is a writer's group in Parkes that provides the space and time for adult and teen writers of all skill levels to gather together to talk about their writing. Author-rised began 5 ½ years ago and has had a range of guest speakers visit to provide presentations, including published authors, editors and media organisations. Some members of the group have self-published their works in hard-copy books, or as e-books. Others have won awards for poetry competitions.
For those who are busy with work and family commitments, the writing group offers the time to get some words down. Dan Fredericks, the coordinator of the group, prepares a program for the evening based on the groups' topics of interest. There is also time to Share if you Dare. This time provides the opportunities for writers to read their work
aloud to the others in the group and ask for feedback, if they would like it. Reading out loud is a great practice for writers, and for those interested in participating in the Elvis Poet's Breakfast, this may be a good opportunity for you to practice performing your would-be winning poem.
Author-rised meets at the Parkes Library on the first Tuesday of every month, between 6pm-8pm. There is time allocated for a BYO supper at the end of the meeting. For any enquiries regarding the group, contact Dan Fredericks on 02 6861 2309.