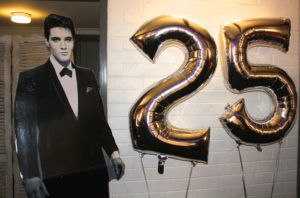 Poetry might not be the first image that springs to mind when you think of Elvis, but the Poet's Breakfast is becoming increasingly popular at the Parkes Festival. Draw inspiration from the Viva Las Vegas theme this year, or from one of Elvis' many hit songs, or even from the festival itself. The Poet's Breakfast is said to be the perfect way to get into the spirit of the festival. There will be prizes for the Best Novice Poet and Open Contender, as well as a People's Choice Award and a performance from local star Barry Green.
The 2016 Poets Breakfast winner, Peter Robinson said: "Parkes Elvis Festival is an incredible event and the Poet's Breakfast is one of the many highlights for me. This year my daughter and I will once again compete." So find your inner poet and share your love of The King on Thursday, 12th January at 7:30am at the Parkes Bolwing & Sports Club.
For more information contact 6862 6000.