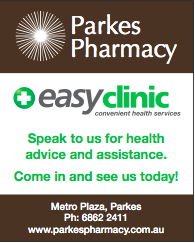 Let's Walk All The Way To Brisbane
Hello Phoenix Readers,
This January and February marks the start of our Year of Health. This is the time we all start making our resolutions for the year ahead and I bet most of them involve making better health choices. I know mine does! So, now is the time to kick it into gear and get your health sorted, and why not make your first stop, Parkes Pharmacy.
We have three pharmacists throughout the week ready and waiting for you to come in and get a quick and painless health check with us. It can be as simple or as extensive as you wish. We can offer blood pressure testing, blood glucose testing, a BMI check or medication review. We can also discuss weight management and quit smoking options and even sign you up to our walking challenge.
This year we hope to walk enough to make it all the way to Brisbane as a community. All you have to do is record your steps each day and hand it in each week until the end of February. Hey, that can even be something you do for your health – walk at least 10,000 steps each day (that's about 7.5km). We certainly reach that here simply by just helping our customers around the pharmacy.
So, what are you waiting for? I know we're waiting for you – waiting for you to start your Year of Health with us. The choice is yours, a simple blood pressure test or an extensive health check. Whatever you choose, we're here to help.
Thanks for reading.
Caitlin Haase, Retail Manager