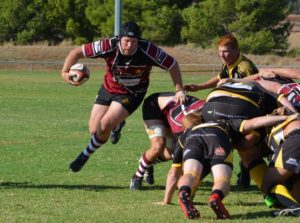 Parkes Boars have opened their New Holland Agriculture Cup account with a double header win against rivals Dubbo Rhinos. The Boars second-grade team faced the Rhinos, under the coaching of Ethan Kosef. The challenge this year was to start strong and the team didn't disappoint. Mitch Hutchings crossed for the first of his three tries, then kicked the conversion to give Parkes the lead within the first five minutes. Ben Rathbone's defence on the line was instrumental in keeping Rhinos scoreless for the match, with the Boars final score being 33.
First points on the board for the firstgrade game went to the Rhinos, due to a Boars handling error. The Boars, coached by Joshua Miles, soon evened the scores thanks to Ben Ryan's tries, along with the combined strength of the Boars front row holding well. A penalty scrum to Parkes on the 15m took the half time score to 22-5.
In the second-half, the tempo of the game increased, and tempers started to flair. The Boars tenacity was awarded when Rodgers successfully landed 3 penalty goals, then crossed undefended under the posts in the final moments to seal the match with a final score of 43-22.
Players player and winner of the Old Boys Jersey went to Sam Davis on Debut. The 2018 New Holland Agriculture player of the day was awarded to Mitch Hutchings from Boars second grade.
A vote of thanks to the referees Chris Reynolds (2nds) and Paul Hannock (1sts) for recognising the very hot conditions and allowing extra drink breaks for both teams. Next weekend the Boars travel to Narromine's Cale Oval to face the Gorillas. Narromine had a strong win over Mudgee Wombats in their first round so this will be a
big match for both teams. Seconds kick off at 1:50pm with First at 3:15pm.
By Cath Ryan