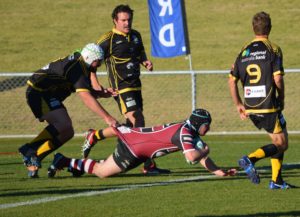 With two straight losses each, the Parkes Boars defeated the Dubbo Rhinos 59 – 7 at Caltex Park on Saturday.
The Rhinos appeared to dominate the opening play with Ross Gilmore crossing for the first points plus a successful conversion.
Not long after Boars full back Lloyd Rog- ers crashed through the defence to score wide. The conversion missed. Sam Standen collected a great pass from the sideline run of Rogers to find the line on the wing, but the conversion went wide again.
Flanker Ash Adams was next to score after a fumble by the Rhinos.
Ben Powlay and winger Dyllan Phillis combined to run the ball 60m with Phillis taking it across the line. Lock Toby Baigent scored his first of three. Israel Symington was the last to score in the first half. The Boars took to the break with a handy 34-7 lead.
It took Baigent five minutes to find the line for his second try. The Rhinos tried to assemble their defence but the Boars kept finding a way through. Joe Nash was the next to crash across after dominating the centre field play for the best part of the match. With ten minutes to go, Baigent crossed for his third.
Aron Peters on the wing had a strong running game, while Rogers took a cheeky inside pass and ploughed across the line for his second, and converted his own with five minutes to go. The Boars still attacked taking the ball within 15m, when right on the final minute Symington put the ball on his boot and dropped it neatly over the posts to add three points and take the match.
The second grade Boars followed the lead and put on a clinical display of rugby to take the match off the Dubbo Rhinos.
Inside centre Dyllan Phillips, in his 100th senior club game for the Boars, crossed the line two minutes in. Number 8, Matt Parker added the extras. Two minutes later full back Pat Jones crossed for his first and Parker added the extras again.
On the 10 minute mark, Jones finds himself with the ball on his chest and he sprints 25m to cross on the wing. The conversion went wide.
The Rhinos found a small gap and crossed beside the posts and converted.
Half time score Boars 19-7 up.
The Boars kept the Rhinos scoreless in the second half. Pat Jones crossed for his third with three minutes to go and sealed the match for the Boars.