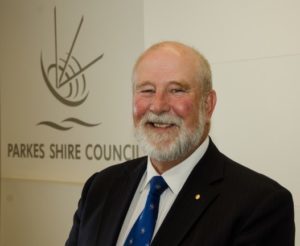 This week Council voted to adopt a suite of drought relief initiatives, which include immediate access to domestic and stock water free of charge for rural residents from Council's stand pipes. While this isn't a long-term solution, we hope this will bring some short-term relief for our farming families.
Council will also host a community forum in the coming weeks to discuss how best to spend the $1 million allocation by the Federal Government as part of their drought assistance package. I have also lobbied the government for the reinstatement of a Parkes based Rural Financial Counsellor on a visit to Canberra this week as part of the CENTROC Drought Committee delegation. For more details about Council's drought relief measures, visit www.parkes.nsw.gov.au
Last week the Parkes Integrated Water Infrastructure Renewal Program was recognised for raising the benchmark of Australian engineering standards by winning the Energy, Water and Resources Project category at the NSW 2018 Australian Excellence in Engineering Awards. It is more important than ever to invest in smart, sustainable solutions to guarantee long-term water security and through this program we have been able to deliver state-of-the-art treatment plants and strengthen our entire water network.
This week Council crews have been working to repair a collapsed culvert along Collingwood Lane (SR148). The works are expected to take a number of weeks to enable the new concrete to cure. Motorists are advised that the section of road will be temporarily closed to enable the repairs to be carried out.
Locals are encouraged to drop by our Council stand at the Parkes Show next week. Our staff will be on hand to speak
with residents and answer any questions they may have about Council works, services, initiatives and events.
Have a safe and enjoyable weekend
Cr Ken Keith OAM
Mayor of Parkes Shire